Research has shown that mixed children benefit from growing up in a racially diverse environment which supports and values their cultures. Books are one of the resources which can support the development of positive identity and self-esteem of children from any racial background.
I am pleased to be able to link you to a wonderful list of books which feature mixed race characters
(click here)
compiled by renowned children's author
Malaika Rose Stanley
. This list is a useful resource for families, children's centres, schools, nurseries, playgroups etc. Malaika explains that many of the books are quite dated, (indeed, I used to read some of them to my children when they were small; timeless!) and many are US publications which may be less easily available and less reflective of the British experience, but she felt it was better to leave people to make their own choices and draw their own conclusions. UK publications are in bold and
Letterbox Library
is a great place to find them!
At Letterbox Library they search for the best children's titles from a huge range of UK and overseas publishers, including independent and charity sector publishers. Many of their titles are not available elsewhere. Every book they sell has been approved by independent volunteer readers who include teachers, librarians, early years staff, childminders, parents and, of course, children themselves. I highly recommend Letterbox Library. Check them out a
t
http://www.letterboxlibrary.com/
to view the full range. Enter
Mixed Race
in Keywords to see their list of mixed race books.
Blogger Mama Elsie is compiling an ongoing list of books which feature ethnic protagonists. These books actually live in her home and are read by children in her class 3G. She'll give a little bit of blurb / info and possibly a review or two if she can persuade the girls to give her a soundbite!
Check out her blog post
Beige Books
.
I have listed some of my favorites below
.
Every family will relate to the universal story of one boy who won't let anything get him down, especially with the help and encouragement from his family, friends and three little birds. I will let you know what the grandchildren think of this and the other books as soon as they've had a chance to review them.
EVERY LITTLE THING
adapted by Cedella Marley
illustrated by Vanessa Brantley-Newton
Ref: 12399
A Bob Marley classic, with it universal message of peace and harmony, brought to life through an optimistic
little
child. A magnificent picture book. Age 3-6, American Import Hardback
This book is about a young son who discovers he does not have exactly the same skin colour as either parent. He questions this revelation and his parents explain using animals during a visit to the zoo. A candid look at children of mixed race and multiculturalism learning about their identity for the first time through a colourful illustrative story.
This adorable book by Deipa Hart is a collection of poems for young children. The poems are written from her own experiences, with the aim to help parents with mixed race children.
The last poem ends.. .......
I love being mixed race
It's really, really cool
Know about your cultures it helps you to be you
I love the way that the book is interactive and includes a section for notes and also one called 'Colour Me In'
This book was recommended to me by a young woman called Michaela who contacted me on Twitter. Her step-mum brought her the book when she was a child and she still cherishes it to this day.
It was first published in 1999, so it is not around in abundance, but you can still purchase it new on Amazon. (I did note that a brand new first edition in unused condition is worth over £600). I'm sure Michaela's is well used! I recommend that you buy secondhand or alternative purchase the book from the USA.
During a visit with her great-aunt, a young girl learns the story behind her name and learns to feel proud of her mixed heritage.
I've added this new book by Leslie Ryan called I am Flippish. The Grandchildren really enjoyed it. They are Jamish (well mostly!)
Sean is excited because today is his dad's turn to help out at school! But when Sean's classmates start asking questions about why Sean and his dad look different from each other, Sean starts to wonder too. With the help of their teacher, the students learn a few things about diversity, family and where we really came from. And along the way, Sean teaches his friends just how wonderful it is to be different!
I like these books,
by
Floella Benjamin. 'My Two Grannies'
teaches children about tolerance and understanding and reminds us that no matter how great the differences may seem, there's always room for common ground.
Alvina has two grannies: Grannie Vero from Trinidad and Grannie Rose from England. When Alvina's parents go on vacation, both grannies arrive to look after Alvina. But the two grannies have two very different ideas about what to eat, what to play, even what stories to tell.
'My Two Grandads' builds on the success of Floella Benjamins, My Two Grannies and tells of a mixed-race family reconciling their very different cultures is a wonderful celebration of diverse cultures.
Aston's Grandad Roy played in a steel band and Grandad Harry played the trumpet in a brass band. Aston learns to play both instruments. Then the school needs a band to play at the school fair, and both grandads want their own band to play. Finally Aston had an idea - both bands join together to make one big band, and Aston joins in first on steel drums and then on trumpet.
I'm so glad that these books by Tony Bradman & Eileen Brown are still around. I first read them to my children over 20 years ago!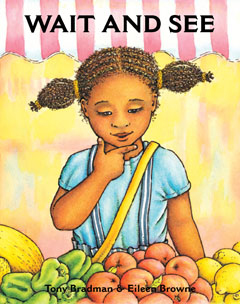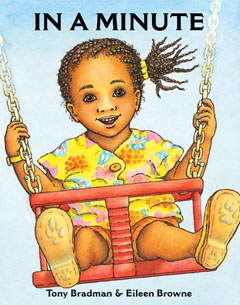 Jo learns about time and waiting when she goes with her parents and her friend Sita to the park. A must for parents who want their children to appreciate the diversity of the world. Great book. Timeless!!
Find Book
Jo learns the value of money both in what it can buy and what happens when you save it. This is invaluable as it sets down principles that we all want our children to learn.
Purchase from letterboxlibrary.com
Jo is ill and has to stay in bed for the day, but her mum promises to bring her home a surprise to make her feel better. All day long Jo looks out of the window waiting for her mum to return. But when will Mum be back with her surprise for Jo? I lost count of the number of times that I read this.
Find Book